Hey, pss! This might interest you.
Do you love Street Art? Here are some works to see and photograph during a trip to Bari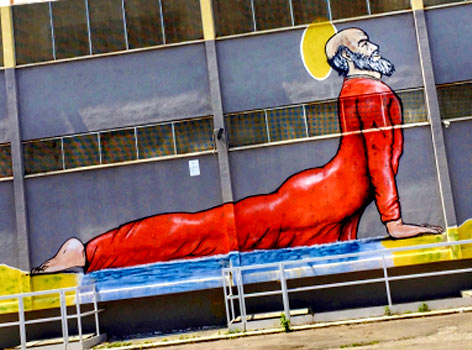 The Street Art , is an increasingly widespread and adopted practice around for the world in order to enhance buildings, walls and public areas of small and large cities.
Initially born as an illegal art form , it has acquired more and more acclaim over time, giving the possibility to many young artists to express their creative talent and at the same time to beautify the city .
Having said that, if you are on this page it is probably because you are interested in discovering what Bari reserves for Street Art lovers; well, then relax, because you've come to the right place at the right time.
In fact, thanks to the creativity of some artists who passed through Bari and to a spontaneous movement of citizens such as that of RetakeBari (which in addition to promoting the care of the common good is also works, all in compliance with absolute legality), the capital boasts some beautiful street art that BariExperience absolutely wants to share to enrich your fantastic experience in the city.
Many of these beautiful street art are dedicated to the patron saint of the city, Saint Nicholas , but besides these works there are other equally beautiful ones that will catch your attention.
But where are these works found? Here is a list of some murals not to be missed during your visit to Bari !
A walk in Bari vecchia to discover the tourist attractions of the city and an exquisite tasting made of fresh burrata, local beer, cold cuts, ice cream and more.


The three St. Nicholas of the underpass
Three great Saint Nicholas for three different representations of the saint in the world. From left to right Santa Claus , San Nicola of the peoples of the East and the San Nicola of Bari and of the people of Bari.
Ozmo's work.
The San Nicola of Piazza Diaz
Built on the side facade of a building facing the seafront of Bari , this San Nicola acts as a "bridge" between the countries of the East and those of the West. Furthermore, on the left of the mural, the Basilica of San Nicola di Bari is also depicted. Work of Maupal.
A tribute to Ennio Morricone
Un murale dedicato a Ennio Morricone (compositore e direttore d'orchestra italiano scomparso nel 2020), e al capolavoro "Nuovo cinema paradiso". Anche questo murales si trova in via Quintino Sella. Opera dell'artista Angela Matarrese in collaborazione con i cittadini volontari di RetakeBari.
Street art in the Faro San Cataldo area
Un bellissimo trompe-l'oeil con 4 soggetti chiave: il Faro San Cataldo di Bari, un gabbiano, un bambino di spalle ed un'altalena (con corde e tavola di legno vere, da farci una foto sopra).
Opera dell'artista Angela Matarrese in collaborazione con i cittadini volontari di RetakeBari.
Near the covered market of the San Girolamo district stands this beautiful street art entitled "La ciclatera". Work by the artist Giuseppe D'Asta, created in collaboration with the volunteer citizens of RetakeBari.
A gigantic Saint Nicholas
A gigantic tribute to the Patron Saint of Bari is found in the popular district of San Paolo.
Another Italian street artist, Mauro Roselli.

Tour to discover Bari and the flavors of tradition!
Opportunities to fully experience the city! And if you have an unexpected event, the cancellation is FREE .
Other experiences to do in Bari
Was this post helpful? You like?
Say it with a 1 to 5 heart
Valutazione media 5 / 5. Voti ricevuti: 1