Santa Maria del Buonconsiglio: the remains of a medieval church in the heart of Bari Vecchia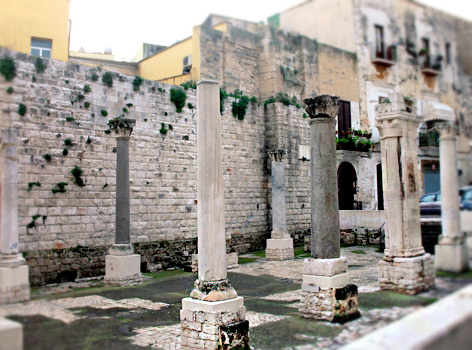 What everyone is wondering when they arrive in this area of ​​ Bari Vecchia is: but what are these columns ?
The columns you see in the photo are nothing more than the testimony of the millenary history that preserves the ancient village of Bari . It is an ancient medieval church , Santa Maria del Buonconsiglio , whose construction dates back to between the 9th and 10th centuries .
The name of this church, in particular the word " Buonconsiglio ", takes its cue from some tragic events which occurred later and which involved Bari and Byzantine during a bloody rebellion.

As you can imagine, the peculiarity of this ancient church lies precisely in what remains of it. An open-air museum in which there are not only the 8 columns, but also a perimeter wall which, together with the 2 pillars and the columns, perfectly create the idea of ​​the three naves of this small strong> church , as well as the original plan of the ancient building.

Another very interesting detail, which characterizes this archaeological site in the center of Bari Vecchia , is its pavement.
The excavations carried out in the 1980s have in fact brought to light, in addition to the perimeter wall of the church , also some fascinating mosaics with geometric representations typical of the time.
Finally, next to the ruins of the church there is an evocative picture of the Madonna nursing the baby Jesus, a place of prayer for the residents of the area.
This square too, by virtue of its history and position on the map of Bari Vecchia , undoubtedly re-emerges among the symbolic places to visit during a walk in the ancient village .
Where is the church?
Immerse yourself in the history of Bari!
Opportunities to fully experience the city! And if you have an unexpected event, the cancellation is FREE .
Find cheap B&B near old Bari
[booking_product_helper shortname="mappa con prezzi"]
Other things to see in Bari
Was this post helpful? You like?
Say it with a 1 to 5 heart
Valutazione media 5 / 5. Voti ricevuti: 2