The Gothic-Venetian style in the heart of Bari: Palazzo Fizzarotti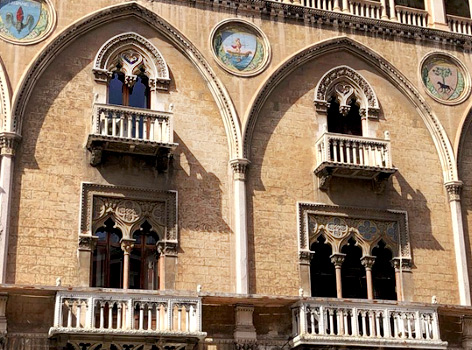 Palazzo Fizzarotti is one of the many jewels of the city of Bari; located in Corso Vittorio Emanuele, in the center of Bari , that of Fizzarotti is a Gothic-Venetian style building built in the 1900s by the banker from whom the name, Emanuele Fizzarotti, was inherited.
The refinement of the allegorical and esoteric decorative elements, with an oriental touch as well, recall the bourgeoisie of that time as a whole, thus making the building a real precious and elegant monument; a mix of styles, Gothic, Venetian, Arabic and Roman, which give the Palazzo Fizzarotti identity and uniqueness.
Inside the structure there are beautiful rooms full of paintings and harmonious architectural and decorative motifs, with worked marbles, mosaics in gold leaf, bronze medallions and much more yet.
Dunque Palazzo Fizzarotti è un vero e proprio gioiello da vivere durante la propria esperienza a Bari.

Ovviamente è possibile visitare gli interni.
Vi incuriosisce? Consultate il sito www.palazzofizzarotti.com
Where is Palazzo Fizzarotti located?
The best-selling tours to see Bari
Opportunities to fully experience the city! And if you have an unexpected event, the cancellation is FREE .
Other things to see in Bari
Was this post helpful? You like?
Say it with a 1 to 5 heart
Valutazione media 5 / 5. Voti ricevuti: 1