Pane e Pomodoro, the beach on the Bari seafront a few steps from the city center.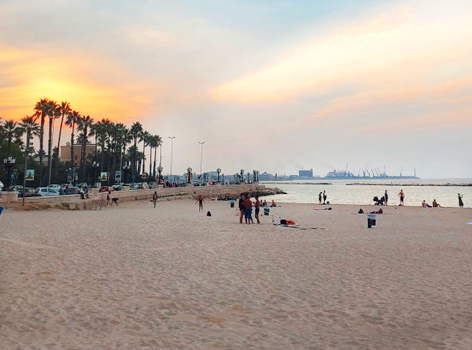 Pane e Pomodoro is the famous beach of Bari , a beach open to anyone who wants, perhaps after a walk on the promenade of Bari , to lie down and take some sun or more simply to take a bath.
Yes, because in Pane e Pomodoro beach there is everything a person needs for his entertainment; there are sea , sand , rocks , gardens, wooden platforms, areas with pebbles and gravel.
In addition there are also services, in fact there is no shortage of bars, bathrooms, showers, lifeguards and assistance staff for bathers. But the most interesting thing is that all this is a stone's throw from the city center of Bari.
Pane e Pomodoro is in fact located at the end of its seafront , following it towards the South, and enjoys a beautiful panorama where it is possible to admire in the distance, in addition to the seafront itself, also the teatro Margherita, the Basilica of San Nicola , the very high bell tower of the Cathedral of San Sabino as well as Bari Vecchia with its wall .

FUN FACT: why is it called Pane e Pomodoro?
The name of the beach wants to reflect the traditions of many people from Bari who frequented this area when it was not yet so equipped; in fact it was the Bari habit to go and get some sun on the beach and have a snack of bread and tomato.
This habit obviously has not been lost, on the contrary it has been joined by a typical local product such as focaccia ; The thousands of tourists who flock to the beach of Pane e Pomodoro every year between a selfie, a bath and a tan are also well aware of this.
Where is Pane e Pomodoro?
Other things to see in Bari
Was this post helpful? You like?
Say it with a 1 to 5 heart
Valutazione media / 5. Voti ricevuti:
This post has not yet received a score! You can be the first