Hey! Take advantage of the Booking offers to stay in Bari!
Among the best known castles in Italy: a visit to the Swabian castle, just outside Bari Vecchia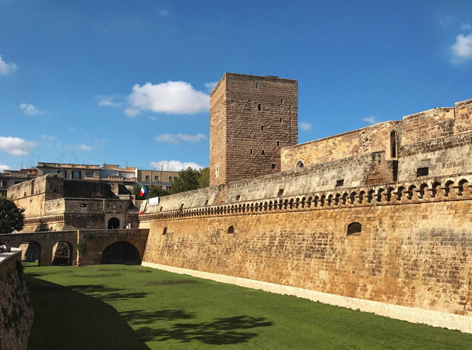 Bari has its castle, and this too is among the historical symbols of the city. Built in the 13th century, the Swabian castle it is one of the most important and characteristic buildings of Bari, as well as being one of the most significant Romanesque monuments of Italy.
The Swabian castle it has a rather troubled history as it is subject to various reconstructions, changes of ownership and intended use: born for the will of the Norman King Ruggiero II, then destroyed by King William the Malo, and then passed to the attention of Frederick II of Swabia which reconstructs and strengthens it.



But the story continues, in fact in the second half of the thirteenth century castello svevo subisce un ulteriore restauro mirato a rinforzare l'ala Nord (che all'epoca costeggiava il sea)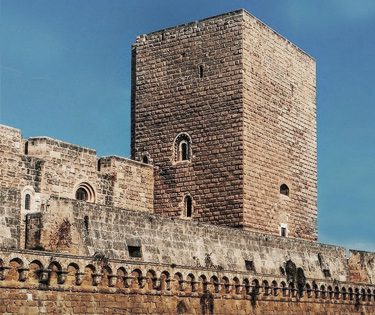 until in Seventeenth century the last and decisive intervention arrives which radically changes the Swabian castle making it what it is now.
This is the structural intervention made by Isabella D'Aragona and her daughter Bona Sforza who, with a development plan oriented towards heavy artillery, foresees the construction of a walls around the castle characterized by a moat .
In the following centuries the Norman-Swabian castle changed its purpose several times, first becoming a prison, then a barracks and in the 1940s the seat of the Superintendence of Monuments and Galleries of Puglia and Basilicata.
Now that the castle of Bari is open to the public, many of its spaces are dedicated to exhibitions, conferences and cultural events.
Once in Bari you cannot miss the Svevo castle , moreover, is located exactly at the gates of the ancient village of Bari (or Bari Vecchia if you prefer); moreover, if you are lucky you may find yourself visiting the building during an exhibition of your interest and therefore decide to participate.
For information on times and tickets in order to visit the Bari castle it is advisable to go to this link
Tour guidati per visitare il castello!
Opportunities to fully experience the city! And if you have an unexpected event, the cancellation is FREE .
Where is the petruzzelli theater?
Search Hotels and B&B near the Swabian Castle
Other things to see in Bari
Was this post helpful? You like?
Say it with a 1 to 5 heart
Average rating 5 / 5. Votes received: 1