The Petruzzelli Theater, a journey through history and culture, through the streets of the center of Bari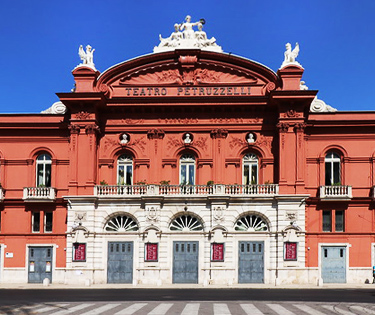 Il teatro Petruzzelli, costruito e inaugurato nei primi anni del novecento, è uno dei teatri italiani più famosi e frequentati oltre che essere uno dei simboli inconfondibili della città di Bari.
Con i suoi 1.482 posti (quarto teatro più grande d'Italia), il Petruzzelli si è sempre contraddistinto per la sua maestosità e capienza regalando a Bari e ai baresi intere stagioni di musica classica e manifestazioni di rilievo nazionale e internazionale; tra queste la celebre trasmissione televisiva musicale "Azzurro", ospitata per diversi anni consecutivi dal teatro che ha visto anche la presenza di volti noti del panorama italiano come Lucio Dalla, Paolo Conte e Ornella Vanoni.
Tutta la bellezza e la varietà del Petruzzelli venne bruscamente interrotta la notte del 26 Ottobre 1991 quando un incendio doloso distrusse diverse zone del teatro causando anche il collasso della cupola, suscitando un grande dolore per Bari e per i cittadini baresi.
Unfortunately, after the stake, the theater stood still for 18 years and then reopened to the public on December 6, 2009 with all its newfound splendor.

Ora è in piena attività e quando passeggerete tra le vie del centro di Bari potrete ammirarlo lungo Corso Cavour.
Per consultare il calendario e i costi per una visita guidata potete consultare questa pagina.
Se invece volete conoscere gli spettacoli e gli eventi in programma offerti dal teatro Petruzzelli potete visitare direttamente il sito www.fondazionepetruzzelli.it
Where is the Petruzzelli theater located?
Other things to see in Bari
Was this post helpful? You like?
Say it with a 1 to 5 heart
Average rating / 5. Voti ricevuti:
This post has not yet received a score! You can be the first