Hey! Take advantage of the Booking offers to stay in Bari!
The Petruzzelli Theater, a journey through history and culture, through the streets of the center of Bari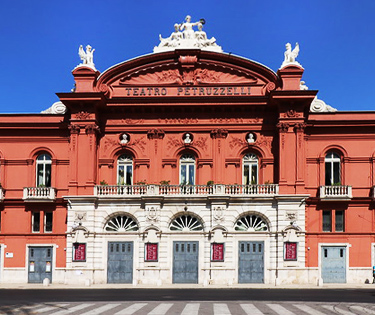 The Petruzzelli theater, built and inaugurated in the early twentieth century, is one of the Italian theaters most famous and popular as well as being one of the unmistakable symbols of the city of Bari.
With its 1,482 seats (fourth largest theater in Italy), the Petruzzelli has always stood out for its majesty and capacity by giving a Bari and to the entire Bari seasons of classical music and events of national and international importance; among these is the famous musical television program "Azzurro", hosted for several consecutive years by the theater which also saw the presence of famous faces from the Italian scene such as Lucio Dalla, Paolo Conte and Ornella Vanoni.
All the beauty and variety of the Petruzzelli it was abruptly interrupted on the night of 26 October 1991 when an arson attack destroyed several areas of the theater, also causing the dome to collapse, causing great pain for Bari and the citizens of Bari.
Unfortunately, after the stake, the theater stood still for 18 years and then reopened to the public on December 6, 2009 with all its newfound splendor.

Now it is in full swing and when you walk through the streets of the center of Bari you can admire it long Cavour course.
To consult the calendar and the costs for a guided tour you can consult this page.
If you want to know the shows and scheduled events offered by the Petruzzelli theater, you can visit the site directly www.fondazionepetruzzelli.it
Where is the Petruzzelli theater located?
Scopri le piazze e i monumenti di Bari
Opportunities to fully experience the city! And if you have an unexpected event, the cancellation is FREE .
Other things to see in Bari
Was this post helpful? You like?
Say it with a 1 to 5 heart
Average rating / 5. Votes received:
This post has not yet received a score! You can be the first